New FAE Mulcher has arrived
Posted on
We are pleased to announce we have taken delivery of a new FAE mulcher attachment for our JCB JS130 excavator and being put straight to the test. The mulcher fits onto the hydraulic arm of the excavator machine and with its cutting teeth offers a simple and effective way of clearing agricultural land, wooded areas, river zones and foresty paths. Our customers are already seeing the benefit of the mulcher, clearing away unruly hedges prior to ditch clearance and clearing back woodland edges in preparation for fencing.
The tracked excavator keeps compaction to a minimum and the mulcher leaves only a small amount of debris behind when cleaning out the ditches. Operating the machine is Mickey Duffin who can already see the potential of the attachment. "When you are tackling some ditches, quite often you have to dig out any number of self sown hedge plants, tree roots and other debris, this is heaped up for burning later which is quite labour intensive, the mulcher works a lot quicker, leaving minimum mess before the ditch clearance and at the same time provides a saving to our customers"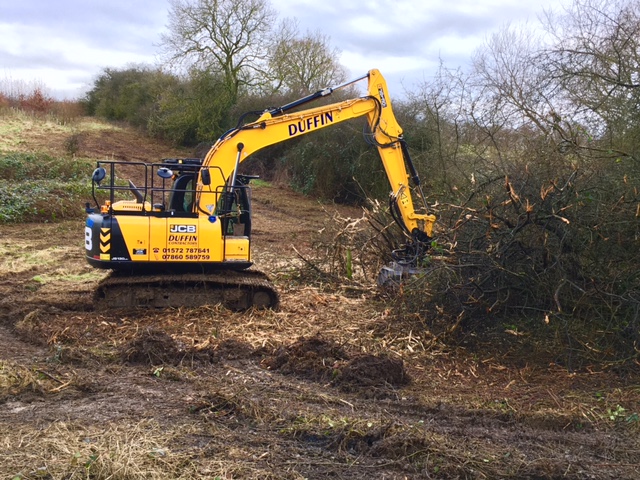 Paul .Duffin says "The investment in this new machine originated from a number of customers asking us to cut back material which is too large for our Shelbourne Flail Hedge trimmer and this will provide a cost effective solution, bringing land back into production and improving access to maintain watercourses."
The attachment will strengthen the plant and woodland maintenance business which already operates with two tracked excavators, JCB 3CX and JCB 65R machines.
Feb 2017